Gold Coast Commercial Gutter Cleaning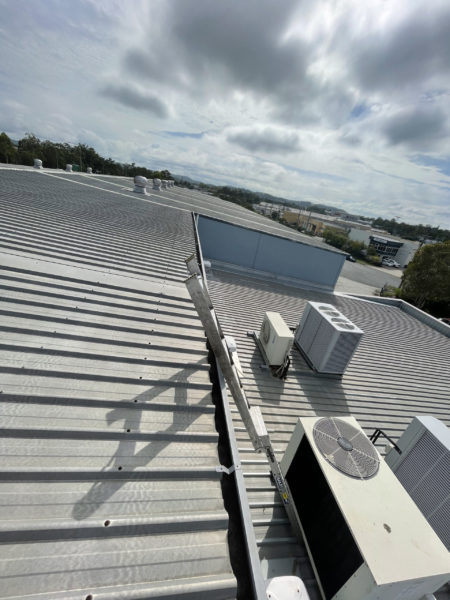 GCGutters – Your One Stop Solution To Commercial Gutter Cleaning Services
Commercial gutter cleaning is very important to keep your building structure's integrity. It is a very different and can be more hazardous than residential gutter cleaning and requires a professional approach.
Why is commercial gutter cleaning important?
Irregular gutter maintenance will cause your gutters to deteriorate and may cause various structural issues which will be very costly to repair.
Blocked gutters can lead your building to be damp and mould will grow. This not only affects the appearance of your building but can also affect the health and safety of your employees
Prolong the life of your roof, gutters and downpipes saving your company a lot of money.
If you are looking for commercial gutter cleaning on the Gold Coast, "Gold Coast gutter cleaning" is at your service. Being the best commercial gutter cleaners in the Gold Coast area, we make sure to provide our clients a professional gutter cleaning service that minimises downtime and business interruption. Our highly professional approach and skilled team are determined to provide you the best commercial gutter cleaning on the Gold Coast. Whenever you need a professional and efficient service of commercial gutter cleaning in the Gold Coast area, we will be at your service to provide you a quality service.
Being the most efficient commercial gutter cleaners on the Gold coast, we have a solution for every need of our clients. We believe that your satisfaction is our first priority. That is why we provide a reliable and safe service. Once we have completed our gutter cleaning we will also ensure your property is clean, if not cleaner than when we arrived. Our highly professional gutter cleaning technicians know exactly how to handle every type of gutter as they have many years of experience. We also take care of all safety measures to ensure that our tradesmen, your employees and your property will be safe.
With our knowledge, handiwork, experience, and industry leading procedures we have become the fastest-growing gutter cleaning service provider on the Gold Coast.
To take away the worry of managing your gutter cleaning maintenance, call us today to get the most professional, efficient and economical Commercial Gutter Cleaners in Gold Coast.
Contact & Quote
To contact us:
1 -simply fill in the online Request An Online Quote form
or 
2 – give us a call on 0492 943 013 
One of our qualified tradesmen will meet you onsite where they can provide you with a quote or advice if needed. Or, many of our clients are happy for us to visit the site and call them to discuss the work to be carried out.
The Job
How to make it happen:
1 – Approve our quote ( Large jobs may require a deposit)
2 – Send us a written work order
3 – We carry out the work in the time agreed.
(NOTE- Wet weather can prevent our tradesmen from accessing dangerous roofs. Also, please notify us if an induction is required to access a site)
At the completion of the job we will completely cleanup any mess created and remove any accumulated debris from site.  Our service also includes:
Work Method Statements and Risk Assessments on each visit to each site.
Minor roof repairs
Advice
Itemised roof and gutter condition report upon completion.
Free reminder service.
Invoicing & Payment
Invoices will include the following information:
* Report outlining any noticeable damage to the roof or gutters
* Digital Photos ( ONLY IF REQUIRED)
* Recommendation of cleaning frequency and schedule for individual properties
Payments can be made by:
* Cash
* Credit Card
* Internet transfer ( bank details shown on all invoicing)
Reminder Service
Want to be reminded?
When we have completed the work, if a cleaning schedule is recommended, we will organize a FREE reminder to be sent to you one week prior to the next cleaning date.
Safety
Any work carried out on Roofs in Queensland must comply with State Safety Laws.
Here at Gold Coast Gutter Cleaning we make safety our priority, which means:
Sandra McKenzie
22/04/2022
Extremely friendly and informative. Great job and nothing too much for them to do. Will get them again.
My gutters and drains were a complete mess full of leaves and debris. Gold Coast Gutter Cleaning did an amazing job they even took before and after photos and to top it off they cleaned up all the mess! I will definitely be getting regular gutter cleans from now on. Thanks guys.
Susan Auckland
22/12/2021
A professional and efficient company from the office through to Andrew and helper who arrived in record time and did a superb job. Would highly recommend this team. Thanks for a job well done, we are rain ready!!
Booked, arrived, and completed work on a Saturday! Very happy with the service and will use again
Amazing job! Thank you so much. I had no idea they were so bad.no wonder my gutters were overflowing with heavy rain. Andrew was so prompt, working in the rain and tidied up afterhimself also. Last time we usee someone else and it was a mess! Wilk definately be recommending Gold Coast Gutter Cleaning…..and use them next time thanks again
We are delighted with the service and the outstanding result. Fully recommend
Janelle George
14/07/2021
Great quality & service. Professional & responsive. Would highly recommend their services. They will definitely be getting my repeat business.
Jonelle Martin
06/07/2021
Excellent service from the team at Gold Coast Gutter Cleaning, can't recommend them highly enough! We have used Gold Coast Gutter Cleaning a number of times for various jobs and we are always very happy with the service provided. Will definitely use them again.